Aaron Kuntz
---
Name:
Aaron Kuntz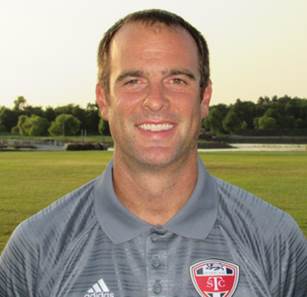 E-mail:
Kuntza11@cableone.net
Phone:
405.269.4315
Philosophy:
"As a coach it is my goal to create, develop, and educate players to love and have a passion for the game of soccer."
Bio:
Coach Kuntz is a Bartlesville, Oklahoma native and a graduate of Bartlesville High School. After graduation Coach Kuntz moved to Stillwater Oklahoma to pursue a degree in Education. While in College he met Keesha, the women he would someday marry. Together they now have 2 beautiful twin daughters Addie and Emma. Coach Kuntz teaches Science at Central Middle School.
Coaching License:
USSF National "C" License
NSCAA State/Regional Goalkeeping Course
OSA Goalkeeping Course 2012
Coaching Career:
FCB Assistant Director of Coaching – (Current)
FCB '97 Boys Head Coach (Current)
FCB '96 Boys Head Coach – 2011 - 2012
FCB' 01 Girls Head Coach – 2011- 2012
FCB 99 Boys Head Coach 2008-2009
FCB' 94/95 Boys Head Coach – 2008-2009
FCB' 95 Boys Head Coach – 2006-2008
Olympic Development Program – Oklahoma Staff Coach - 2012-(Current)
Bartlesville High School Girls Head Coach – (Current)
Bartlesville High School Boys Assistant Coach – 2006
Playing Career:
Coach Kuntz started out playing youth soccer in Bartlesville, later moving on to playing competitive for Bartlesville '79. Once at BHS he played High School soccer under Coach Timmons. After High School, Coach Kuntz continued his soccer playing career at Oklahoma State University. The OSU Men's Team participated in the Oklahoma College Club Soccer League (OCCSL) where they played other local universities and Big 12 teams. Coach Kuntz still plays today in the Bartlesville Adult Soccer League (BASL) as well as on various indoor soccer teams at Soccer City Tulsa.
Education:
In 2002 Coach Kuntz received a Bachelor of Science in Education from Oklahoma State University. Then in 2006 received a Master's in Education also from Oklahoma State University