WCSC 1978-1990
---
Back in the early 70's a group of St. John's Elementary School students would occasionally get together to kick a soccer ball around.

But after a while that got to be a drag, so they decided to form a team. Problem was there weren't any other soccer teams in Bartlesville, or fields, or nets or referees either.

Hearing an advertisement on the radio about the Green Country Soccer Association in Tulsa, one of the kids went down and registered the team which they named the "Santos".

That was the fall of 1975. By the fall of '76 another Bartlesville team had joined Green Country. But the teams still had to play out of town, and when practicing in Bartlesville the teams resorted to odd measures like lining the field with flour and tying nets between the goal posts.

Another year passed before a group of parents recognized that a number of kids were not interested in the more traditional sports of basketball, baseball or football but enjoyed soccer. They formed the Washington County Soccer Club and the rest is history.
---
The Washington County Soccer Club started in the fall of 1978 as an offshoot from a city program run by Phillips Petroleum and the YMCA. The Club started with 10 teams in 1978 playing teams mostly from the surrounding Tulsa area. WCSC became part of the Green Country Soccer Association which brought clubs from Northeast Oklahoma together.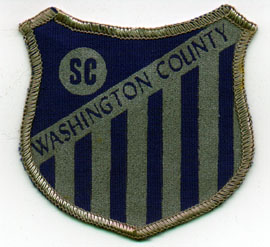 This is a patch from the early years of soccer in Washington County.
---
1978

The officers when the Club was formed were: Jim Giles, President, Wally DeShon, Bartlesville Vice President, John Foote, Dewey Vice President, Barbara Adams, Secretary, Marilyn Lehman Treasurer, Fred Friend, Coaches Coordinator, Clyde Jones, Referee Coordinator, Frank Lacey, Field Administrator, and Neil Lehman, Games Committee Chairman.

Games were played all over town.

Here is a list of some of the fields that were used. Some of these were both practice and game fields.
There were two original fields at Robinwood Park (Fields 12,13,14,15 and 16), but the ground was terrible with cracks large enough to insert your feet. To improve the sod and increase the number of fields at Robinwood, we had to get permission from the City where we had a lot of opposition.
Tri-County Tech (Field #5) - Three large fields located on the east side. This is the area that is now a parking lot and buildings.
Mid-High (Fields 6,7,8,9 and 10) - Three large fields on the east side of the school and two U-10 fields on the west side.
Sooner Park - An U-10 field located up on the hill north west of the old tennis courts. This was primarily a game field.
Wilson Elementary (Field 11) - Two small fields that were used as both game and practice fields.
Kane Elementary - Before it was Kane, we had three fields that we called the Shawnee Fields. These were used for both games and practices.
Dewey - Three fields (Fields 17, 18 and 19). A large field where the Dewey football field is and two large fields behind the church to the north. These were used for both games and practices.
Wentz (Fields 1, 2, 3 and 4) - There were three small fields and from two to three large fields. We had two sheds burned down at this location and one lost to a flood. The Wentz fields are south of town. Take SilverLake road 4 miles south of Adams, turn right (west) and go about 1/3 to 1/2 mile just before a turn in the road and a creek the fields where on the left (south side) of the road.
St James Church - Where the current goals are was at one time a practice field and a game field.
Ranch Heights - A small field located on the East side of the school that was used for both games and practice.
Copan (Fields 20 and 21)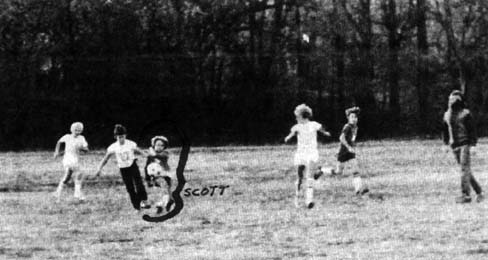 Action from the first season for WCSC, fall 1978.
---
1979

As the popularity increased, the Club increased to 26 teams in 1979. Club Bylaws were drafted by Neal Lehman and Frank Lacey, being adopted by the Club during 1979.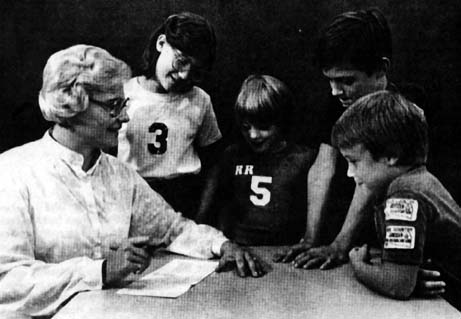 Gene Gallagher, far left, prepares to register these youths for the 1979 Fall Soccer season. Pictured from left are Wendy Gallagher, Terri Gallagher, Gary Deshon and Bryan Lehman. The Washington County Soccer Club is holding its final registration Aug. 4 and 11 from 10 a.m. to 3 p.m. at various locations in Bartlesville, Dewey and Copan. (from the Bartlesville Examiner-Enterprise, August 2, 1979). Registration fees were $7.00 per season.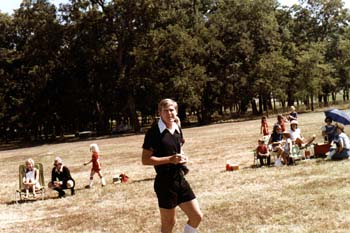 Fred Friend, referee, in 1979
---
1980
Washington County Soccer Club Officers for 1980 are (front from left), Wally DeShon, Bartlesville Vice-President; Neal Lehman, President; Jim Giles, Past President; (back row) Fred Friend, Coaches Coordinator; Frank Lacey, Field Administrator; Jerry Wilson, Treasurer; Ed Butler, Games Committee Chairman. Not pictured are: Barbara Adams, Secretary; Gene and Anne Gallagher, Registrars; Earl Burns, Dewey Vice President; and Bob Boyd, Copan Vice President. (From the Bartlesville Examiner-Enterprise, January 1980)





The Wentz fields are used as game fields.
---
1981
Wally Deshon elected President. 1058 players were registered for the Spring season comprising 77 teams.

The City of Bartlesville offered a proposal to the Washington Soccer Club to develop Robinwood Park into a Soccer Complex. A committee was setup to study the proposal.

Over 1135 players making up 86 teams were registered for the fall 1981 season.

The WCSC General Membership approved the Robinwood Park Project. A fee of $10 per player per year was charged for the project.
---
1982
This was a significant year for the Washington County Soccer Club.
The spring 1982 season opened at Wentz fields with Mayor Arch Robbins kicking out the first ball. Club President Frank Lacey participates and Referee Gary Cannon stands by to start the game between the Kicks and the Sidekicks.
The first major fundraiser for the Club was held. This fundraiser was to fund the development of the Robinwood Park Project.

The sprinkler system at Robinwood Park was installed by WCSC volunteers.

In addition, the Club's first two newsletters, "In the Net" were published.

A coach's handbook and a Parents handbook were developed.

Training films were purchased to help players, coaches, and parents.

Committees were formed to study starting soccer in the school system, participation in the Classic League, and moving to the 7 man soccer for the younger age groups.

In addition, GCSA decided to stop keeping standings and awarding championship trophies for the Under-8 leagues. Instead, participation trophies would be given to the players.

The number of players continued to skyrocket as 1245 players registered for the spring 1982 season with 90 teams participating.
---
1983

Officers for 1983 were:
Front row left to right: Mary Lou Bray, secretary; Paul Schmidtlein, president; Joe Howie, games committee chairman; and Larry Sipe, referee coordinator. On the back row are: Ron Brewer, treasurer; Bud Kopp, fields coordinator; Bill Griffin, games equipment coordinator, and Matt Starcevich, scheduler.

Front row left to right: Meredith Frailey, tournaments and trophies; Ken Bray, vice-president-Bartlesville; Jill Bade, registrar. On the back row are Malcom Joyce, vice-president-Dewey; Dixie Crosby, publicity; Rick Brower, vice-president-Copan; and Bob Bade, registrar. Not pictured are Frank Lacey, past president; Mike Hulings, vice-president-Ochelata; Cindy Jones, vice-president-Ramona; and Steve Paetz, coaches coordinator.
The new soccer fields at the Robinwood Park complex are used for the first time during the spring 1983 season.
In 1983, the Tulsa Roughnecks won the championship of the North American Soccer League (NASL). This same year the coach Terry Hennessey, and some of the Roughnecks came to Bartlesville to put on a week-long clinic.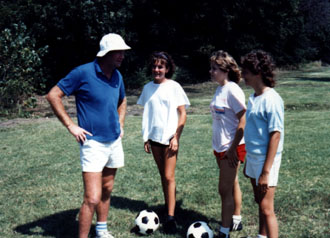 Terry Hennessey, Tulsa Roughnecks Coach talks with Stacy Bray an unidentified girl and Garcy Dobyns during a camp.
Terry Hennessey, coach for the Tulsa Roughnecks, works with some of the boys from WCSC.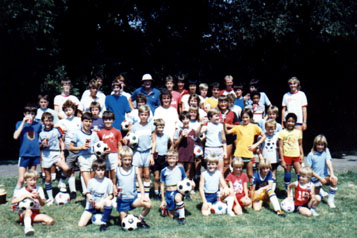 Some of the campers who attended the Tulsa Roughnecks Soccer camp in 1983.
---
1984
The Classic Soccer program was created for the fall 1984 season as a pilot program. A pure Under-12 boys' team, a pure Under-13 boys' team, and a mixed Under-16 Boys team were formed. Girls' teams were also considered, but there were not enough players to support both a classic and recreational program.

This classic program was created among controversy. The program was announced and voted upon at a WCSC General Membership meeting in May of 1984. The program was defeated by a vote of 41-39. However the program was created shortly after that due to the by-laws and WCSC's requirement to follow GCSA and USYSA's rules which stated that we had to offer the classic program.
WCSC Executive Board 1985- Members of the Washington County Soccer Club's Executive Board are, from left, front: Rex Foresman, Equipment Coordinator; Larry Cain, Dewey Vice President; Jill Bade, Registrar; Wendy Kash, Secretary; Dean Dobyns, President; Gary Reheis, Coaches Coordinator; Ken Bray, Past President; Richard Franks, Games Committee Chairman; Bob Bade, Registrar; Jeff Glasgow, Referee Coordinator; Rick Brower, Copan Vice-President; Bob Butler, Treasurer. Members not shown are Mike Hulings, Ochelata-Ramona Vice President; Gary Toussaint, Bartlesville Vice President; and Dave Delahay.
---
1986
In October of 1986, the Caney River overflowed its banks, split the town of Bartlesville in two. For some strange reason, soccer games that were scheduled were cancelled during the weekend and the following weekend of the "great" flood.



Soccer fields at Robinwood Park flooded out


---
1988




Aylssa Dobyns, a member of the First U-12 Girls Classic Champion Team in Washington County 1988.
---
1990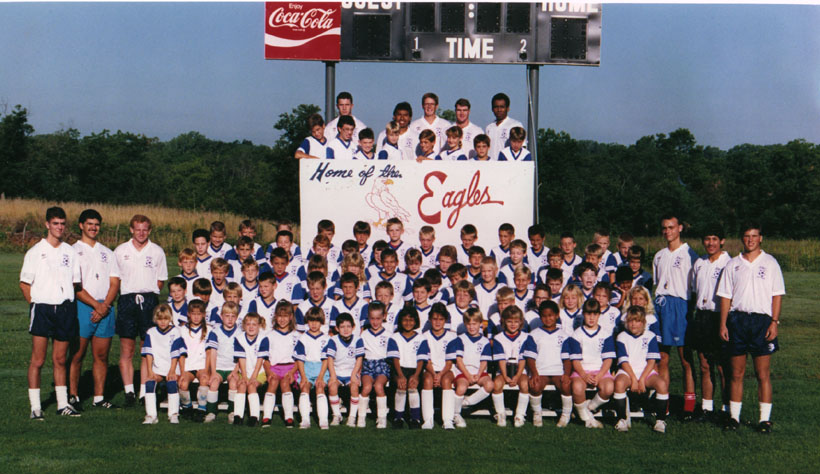 Local WCSC players attend a soccer camp offered by Bartlesville Wesleyan College.