2015 Heartland Midwest Classic Champions!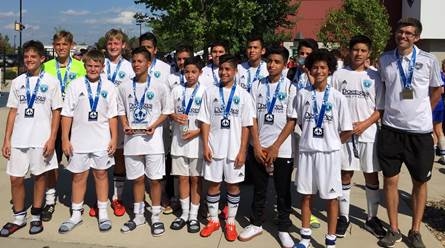 Sep 08, 2015
Congratulations to TSCH Bartlesville '01 Boys!
The '01 Boys traveled to the "state of the art" $36 Million soccer complex in Overland Park, KS over the Labor Day weekend. The '01s competed in the Heartland Midwest Classic were they ran through the group stage with wins over teams from Kansas City, MO, Shawnee, KS, and Lees Summit, MO. In the finals they met up U15 side Elkhorn Sparta from Omaha, NE winning 1 nil with Felix Aranda scoring the game winner. Congratulations boys and good luck with the fall season!
For more information about the '01 Boys competitive team check out their Team Page.
« Back to News